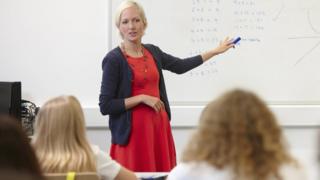 The risk that children will become gravely ill from coronavirus has been described as "tiny".
But could schools potentially spread the virus back into the wider community?
How dangerous is coronavirus for children?
Children of all ages are at extremely low risk of becoming ill.
The UK's chief medical adviser, Prof Chris Whitty, said "the chances of children dying from Covid-19 are incredibly small".
According to the Office for National Statistics, there were 10 deaths recorded as "due to Covid-19" among those aged 19 and under in England and Wales between March and June. There were 46,725 deaths among those aged 20 and over.
And in a study of more than 55,000 coronavirus patients in hospitals, less than 1% were under the age of 19.
There have been some cases of younger children developing an inflammatory syndrome similar to Kawasaki disease. Scientists are exploring a possible delayed immune response to coronavirus – but these are extremely rare.
Can children pass on coronavirus to others?
Children were about half as likely to catch coronavirus as adults and therefore less likely to pass it on, a review of global studies by University College London (UCL) and the London School of Hygiene and Tropical Medicine suggested.
And a study from Public Health England suggested there were "very few" cases of transmission between school staff and students. However, there was little data available for secondary schools.
The government's Scientific Advisory Group for Emergencies (Sage) said in countries where schools have reopened, data suggests it has made "little difference to community transmission".
Around the world, researchers have tried to estimate how often children catch coronavirus and how often they are the first case which starts an outbreak.
Studies of clusters in family groups across China, and cases in the French Alps, suggested that none of the infections were likely to have been introduced by children.
Community studies in Iceland, South Korea, Netherlands and Italy all found evidence children were less likely to have – or have had – the virus than adults.
What's the risk to teachers?
A Public Health England study, carried out when many schools had not yet re-opened, suggested staff were more likely to catch the virus from each other, or from elsewhere, than from pupils.
It said staff should be vigilant about coronavirus outside school and that care should be taken in shared areas like staff rooms when at work.
The government does not consider schools to be high-risk workplaces. Even clinically extremely vulnerable staff are expected to return, provided measures such as social distancing and extra handwashing are followed.
But public sector union Unison says social distancing in schools will "be very difficult". It says little personal protective equipment has been provided.
School staff should be allowed to wear face coverings, it argues, and vulnerable staff should be able to request an individual risk assessment. In Scotland, face coverings must now be worn in corridors and communal areas of secondary schools.
What if you don't send schoolchildren back?
Opening schools involves some risk of spreading infection, but not opening schools also involves risk – just of a different kind.
Prof Chris Whitty, who is also England's chief medical officer, says children are more likely to be harmed "in the long run" by not returning to school than if they catch coronavirus.
Sage says school closures risked children's education, which in turn could impact their psychological wellbeing and long-term development. This is likely to hit the most vulnerable children the hardest.
When some schoolchildren returned earlier in the summer, younger year groups and those with exams coming up were generally prioritised.
This is because they have the most important educational needs and, for younger children, they may be less able to learn well at home.
What do I need to know about the coronavirus?